Webcasts
Mastering the Network Closet
No matter the size of your organization, the network closet is an important element that keeps your business running. From hardware and software basics, to advanced management methods ― our three-part webcast series will equip you with the knowledge you need to maximize uptime, improve efficiency and reduce operating costs.
Part I: Building Blocks of your Network Closet
Do you have tangled webs of cabling and step stools as your 'IT racks'? These are key symptoms of less-than-effective power management strategies. Explore potential remedies by joining us for a discussion on the basics of network closet maintenance.
You will learn about:
Various states of network closet environments
Network closet options and offerings
Basic methods to improve organization and effectiveness of your application
---
Part II: Maximize the Uptime and Reliability of Your Network Closet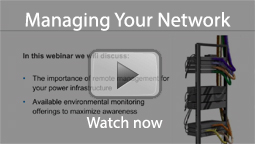 We will focus on some of the best practices for maximizing uptime in your network closet environment. This will enable you to successfully navigate the day to day power anomalies and provide the reliability your bosses and colleagues are looking for.
You will learn about:
Hardware redundancy
Extended run-time options
Intelligent power management
---
Coming Soon
Part III: Manage Your Network Closet Effectively
With the basic network closet knowledge under your belt, it's time to move on to a critical piece of the puzzle ― management. We will use this session to discuss combining hardware and software solutions to meet your network closet management needs.
You will learn about:
Identifying your specific needs
Selecting the appropriate hardware for your application
Adding software into the mix
.
---
Plaza Dynamics and Eaton
Plaza Dynamics has been providing professional IT services for almost 15 years. As technology has continued to advance and evolve, so have we. Our dedication to being the best at what we do and our fanatical focus on customer service has resulted in Plaza Dynamics being recognized as a leader in the IT industry.